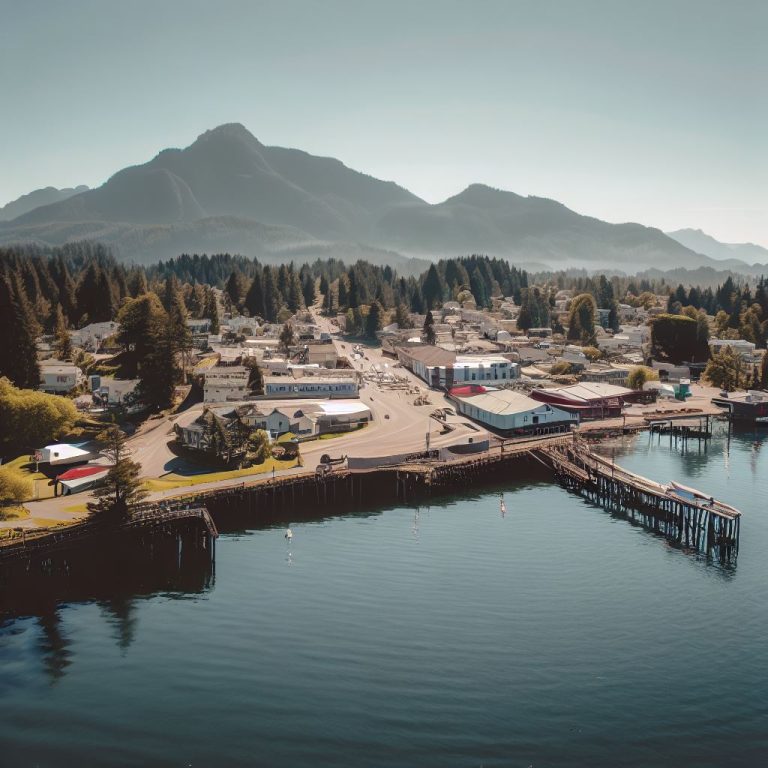 Port Alberni
Port Alberni is a picturesque city nestled in the heart of Vancouver Island, British Columbia, Canada. Surrounded by lush forests and situated at the head of the Alberni Inlet, this charming destination offers a blend of natural beauty, outdoor adventures, and cultural experiences. Whether you're an outdoor enthusiast, history buff, or simply seeking a peaceful getaway, Port Alberni has something to offer everyone.
Top Attractions:
Sproat Lake Provincial Park: Known for its clear waters and sandy beaches, Sproat Lake is a popular spot for swimming, fishing, and boating. Don't miss the opportunity to see the famous "Martin Mars" water bombers that call this lake home.
Cathedral Grove: A short drive from Port Alberni, Cathedral Grove is home to ancient, towering Douglas fir and red cedar trees. It's a must-visit spot for nature lovers and hikers.
McLean Mill National Historic Site: Step back in time and explore a working sawmill from the early 20th century. The site offers guided tours and a glimpse into Port Alberni's lumber industry heritage.
Harbour Quay: This waterfront area is a hub of activity with shops, galleries, and restaurants. Stroll along the boardwalk and enjoy views of the Alberni Inlet.
Alberni Valley Museum: Learn about the history and culture of the region through exhibits and artifacts. The museum provides insight into the Indigenous heritage and the development of Port Alberni.
Outdoor Adventures:
Hiking: Port Alberni boasts numerous hiking trails for all skill levels. The Alberni Inlet Trail and Mount Arrowsmith are popular choices.
Fishing: The region is renowned for its fishing opportunities, including salmon and steelhead. Try your luck in the lakes, rivers, and coastal waters.
Cycling: Explore the city and its surroundings on two wheels. The Alberni Valley offers scenic routes suitable for both leisurely rides and mountain biking.
Water Sports: Kayaking, paddleboarding, and canoeing are great ways to explore the Alberni Inlet and nearby lakes.
Events and Festivals:
Salmon Festival: Held annually in September, this event celebrates the return of salmon to the region with a parade, games, and food.
**Held annually in September, this event celebrates the return of salmon to the region with a parade, games, and food. **
Art Rave: An arts and culture festival showcasing local talent through art installations, performances, and workshops.
Accommodation:
Port Alberni offers a range of accommodation options, including hotels, motels, cozy bed-and-breakfasts, and campgrounds for those who prefer a more rustic experience.
Local Cuisine:
Sample fresh seafood, including salmon and Dungeness crab, at local restaurants. Don't forget to try British Columbia's renowned wines and craft beers during your stay.
Port Alberni's natural beauty, outdoor activities, and rich history make it a captivating destination for travelers seeking a relaxing escape on Vancouver Island. Whether you're exploring the forests, enjoying the waterways, or immersing yourself in the local culture, Port Alberni promises a memorable experience.
2533 Port Alberni Hwy, Port Alberni, BC V9Y 8P2