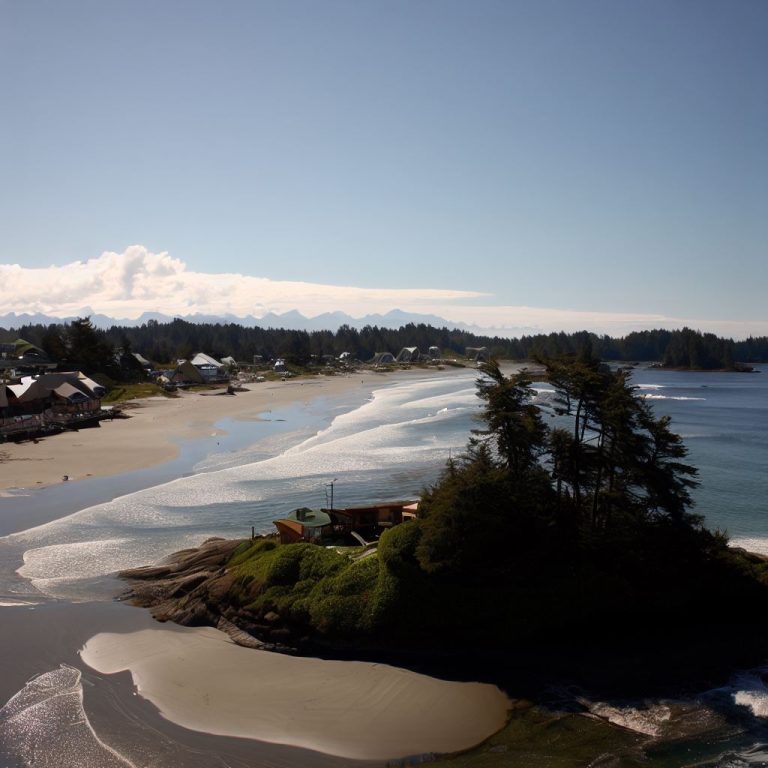 Tofino, British Columbia, Canada
Tofino is a picturesque coastal town nestled on the west coast of Vancouver Island in British Columbia, Canada. Known for its stunning natural beauty, pristine beaches, and vibrant arts scene, Tofino has become a popular destination for nature enthusiasts, surfers, and anyone looking to experience the rugged charm of the Pacific Northwest.
Things to Do:
Surfing: Tofino is renowned for its world-class surfing conditions. Cox Bay and Chesterman Beach are excellent spots for surfers of all levels. You can rent equipment and take lessons from local surf schools.
Beachcombing: Explore the numerous beaches in Tofino, including Long Beach and Mackenzie Beach, which offer opportunities for beachcombing, picnicking, and enjoying breathtaking sunsets.
Whale Watching: Take a whale-watching tour to see gray whales, humpback whales, orcas, and other marine life. Tours are available throughout the year.
Hot Springs Cove: Accessible by boat or seaplane, the natural hot springs at Hot Springs Cove offer a unique opportunity to relax in geothermal pools while surrounded by lush rainforest.
Hiking and Nature Trails: Tofino offers a variety of hiking trails, including the Rainforest Trail and the Wild Pacific Trail, which showcase the region's diverse flora and fauna.
Cultural Experiences: Visit local art galleries, studios, and cultural centers to explore the rich indigenous heritage of the area and discover the works of local artists.
Where to Eat:
Tofino boasts a thriving culinary scene with a focus on fresh, locally sourced ingredients. Some popular dining options include:
The Wolf in the Fog: Known for its innovative Pacific Rim cuisine and stunning ocean views.
Shelter Restaurant: Offers a diverse menu featuring seafood and other regional specialties.
Tacofino: A local favorite for gourmet tacos and casual dining.
Sobo Restaurant: Famous for its sustainable and organic dishes, including delicious seafood and vegetarian options.
Where to Stay:
Accommodations in Tofino range from cozy cabins to upscale resorts. Some options include:
Pacific Sands Beach Resort: Beachfront cabins and suites with spectacular views of Cox Bay.
Wickaninnish Inn: A luxurious oceanfront hotel with spa services and award-winning dining.
Tofino Harbourview Motel: A budget-friendly option with comfortable rooms and a central location.
Camping: Tofino offers several campgrounds for those who prefer a more rustic experience.
Best Time to Visit:
Tofino is a year-round destination, but the best time to visit depends on your interests. Summer (June to August) offers the warmest weather and is ideal for outdoor activities. Winter (December to February) is perfect for storm watching and hot springs visits.
Getting There:
Tofino is accessible by car, ferry, or plane. The closest major airport is in Victoria, and from there, you can drive or take a domestic flight to Tofino-Long Beach Airport. BC Ferries also run from Vancouver Island to the mainland.
Tofino's natural beauty and outdoor adventures make it a must-visit destination for those seeking an unforgettable Pacific Northwest experience. Whether you're surfing, hiking, or simply enjoying the coastal scenery, Tofino has something to offer every traveler.
Tofino/Coordinates 49.1530° N, 125.9066°
Home