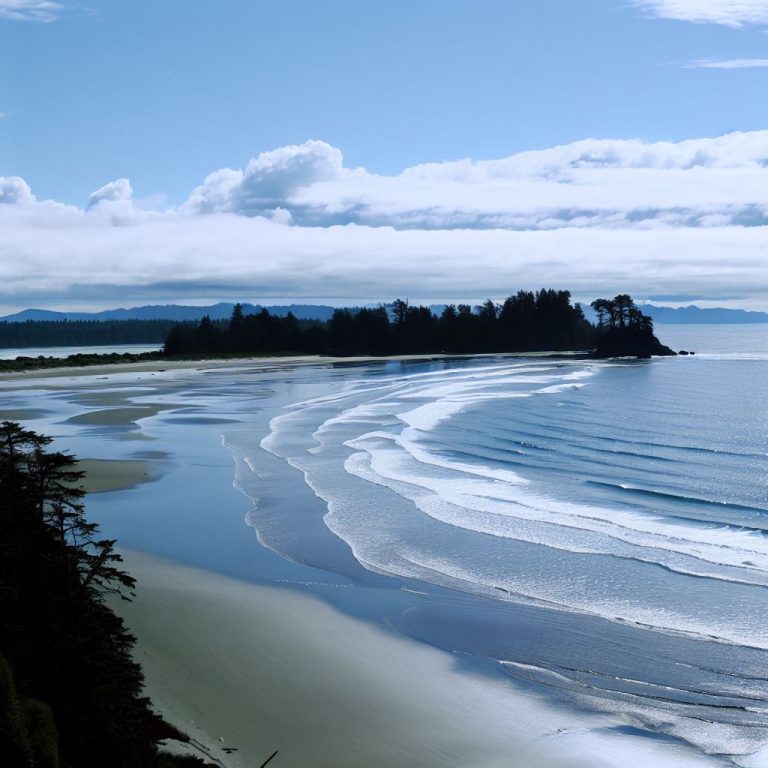 Long Beach, Vancouver Island
Long Beach is a stunning and popular destination for nature enthusiasts and beach lovers. It's part of the Pacific Rim National Park Reserve, known for its rugged coastline, pristine beaches, and lush rainforests. Whether you're into hiking, wildlife viewing, surfing, or simply relaxing by the ocean, Long Beach has something to offer for everyone.
Attractions:
Long Beach: The main attraction is the 16-kilometer long sandy beach, which is perfect for long walks, beachcombing, and watching the Pacific waves roll in.
Hiking Trails: The area is home to numerous hiking trails, including the famous West Coast Trail and the Rainforest Trail. These trails offer opportunities to explore the lush rainforests, rugged coastlines, and incredible biodiversity.
Surfing: Long Beach is a hotspot for surfers, with Tofino nearby offering surf shops and schools for both beginners and experienced surfers.
Wildlife Viewing: You can spot whales, sea lions, otters, and various seabirds along the coast. The area is also home to the Pacific Rim Whale Festival, celebrating the annual migration of gray whales.
Hot Springs Cove: A short boat or seaplane ride from Tofino, this natural hot spring is nestled in a beautiful cove, providing a unique and relaxing experience.
Things to Do:
Beachcombing: Explore the shore for shells, driftwood, and other treasures.
Photography: The stunning landscapes and diverse wildlife make it a photographer's paradise.
Camping: There are campgrounds available for those who want to experience the outdoors up close.
Kayaking: Paddle along the coastline for a different perspective of the area's beauty.
Best Time to Visit:
The best time to visit Long Beach is during the summer months (June to August) for warm and dry weather. However, if you prefer fewer crowds and don't mind cooler temperatures, the shoulder seasons of spring and fall offer their own charm.
Don't miss out on experiencing the local cuisine in nearby Tofino. Fresh seafood, including salmon and Dungeness crab, is a highlight. Many restaurants offer farm-to-table dining with a focus on Pacific Northwest ingredients.
Additional Tips:
Dress in layers, as the weather can change quickly.
Respect the natural environment and wildlife.
Check for park and campground reservations, as this area is popular.
Long Beach, Vancouver Island, is a natural wonderland that offers a wide range of activities and breathtaking scenery. Whether you're seeking adventure or relaxation, it's a must-visit destination for any nature enthusiast.
long beach BC V0R 2Z0 Canada