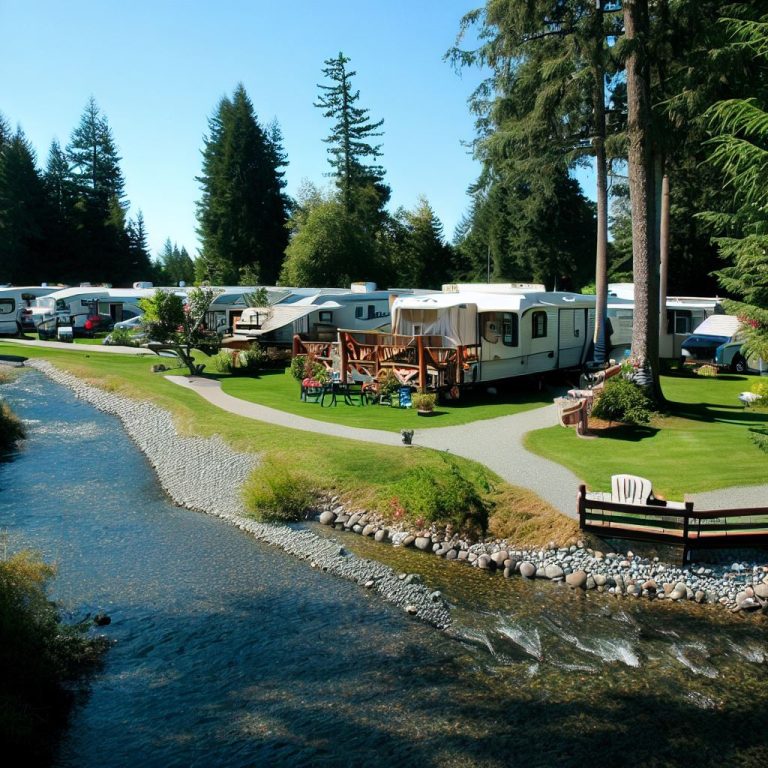 Riverbend RV Resort & Cottages
Riverbend RV Resort & Cottages is a popular vacation destination that caters to both RV enthusiasts and those seeking a cozy cottage getaway. Nestled in a scenic natural setting, this resort provides a range of amenities and activities for visitors of all ages, making it an excellent choice for families, couples, and outdoor enthusiasts.
Key Features and Activities:
RV Camping: The resort offers spacious RV sites with full hookups, including water, electricity, and sewer connections. Whether you have a large motorhome or a compact camper, you'll find a suitable spot to set up camp.
Cottage Rentals: For those who prefer a more traditional accommodation experience, Riverbend RV Resort & Cottages offers fully equipped cottages with modern amenities, such as kitchens, bathrooms, and comfortable living spaces.
Outdoor Recreation: The resort is surrounded by natural beauty, including the Englishman River, which is ideal for fishing, tubing, and swimming. Hiking and biking trails are also nearby, providing opportunities for exploration and adventure.
Swimming Pool and Hot Tub: Relax and unwind in the resort's swimming pool or soak in the hot tub after a day of outdoor activities. These amenities are particularly popular with families.
Playground and Games: Children can enjoy the playground, while adults can partake in games like horseshoes and volleyball, ensuring everyone has a fun and active vacation.
Picnic Areas: Picnic tables and designated areas are available for those looking to enjoy a meal outdoors amidst the natural surroundings.
Events and Entertainment: During the summer season, Riverbend RV Resort & Cottages often hosts special events and entertainment for guests, fostering a vibrant and social atmosphere.
Facilities:
Restrooms and showers for campers.
Laundry facilities.
Convenience store for basic supplies.
Wi-Fi access (may be limited in some areas).
Pet-friendly (with restrictions).
Hours and Reservations: Riverbend RV Resort & Cottages operates seasonally, typically from spring to fall. It is advisable to make reservations in advance, especially during peak tourist seasons, to secure your spot or cottage. Check the resort's website for specific opening dates and availability.
Note: Please check with the resort for their current policies, rates, and any COVID-19 related guidelines or restrictions that may be in place. Enjoy your stay at Riverbend RV Resort & Cottages in beautiful Parksville!
924 Island Hwy E, Parksville, BC V9P 1R6
https://riverbendresort.bc.ca/